HOUSING
Housing will be coordinated and provided for REU participants on-campus at the University Towers located on the Modesto A. Maidique Campus (MMC) .
https://housing.fiu.edu/choose-your-room/university-towers/index.html
The following utilities are provided:
Air-conditioning
Wi-Fi and cable TV access (TV not included)
Front desk with desk attendants
Lounges for studying, socializing, and playing games (billards, table tennis, etc)
Full kitchen (kitchen appliances/supplies are not included)
Living room
Full mattress (size 54 x 80 x 6)
Shared bathroom (floor plan shows double sinks on each sides of room, the actual room has single sinks on each side, toiletries not included)
Laundry room on 1st floor accepting cash and credit cards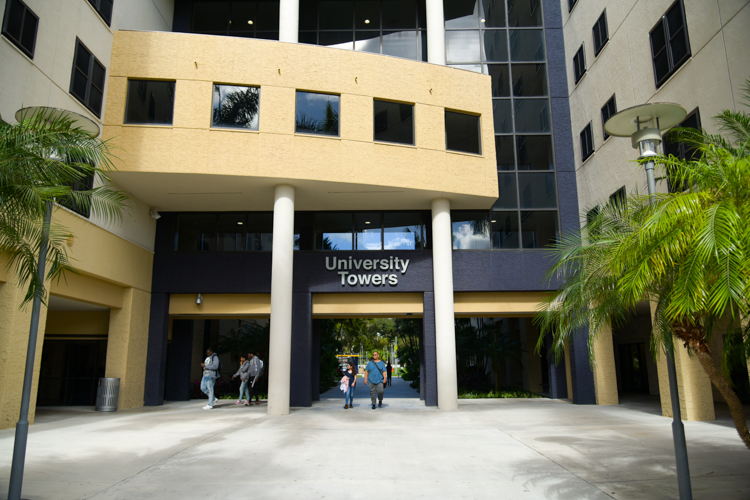 University Towers at A. Madique Campus (MMC)
University Towers Floor Plan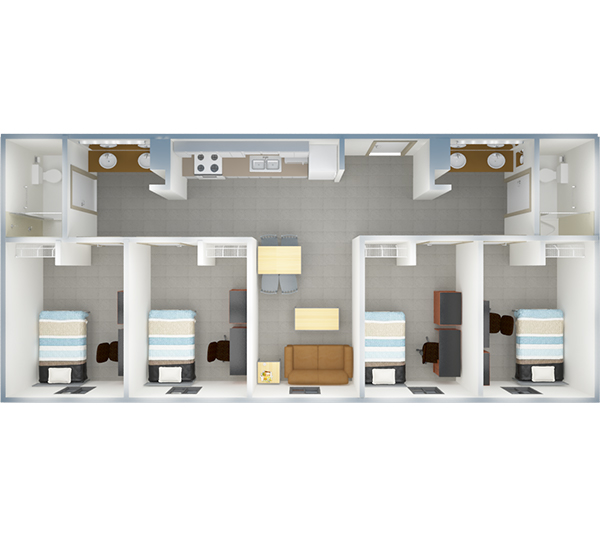 Here are the list of the items you need to take care of
Things not to bring

 Meal Plans:
All REU applicants will receive vouchers for meals until the 20th of June when 8th ST. Campus Kitchen opens. At that point students will be switched to FIU's meal plan Panther Dining. Panther Dining offers 27 different restaurants across the Modesto Maidique and Engineering campuses. Whether you need a cup of coffee to start your day, a snack in between class or a full meal they've got you covered.
For a full list of all available restaurants and hours please visit:
https://shop.fiu.edu/dining/restaurants/
Work Site
All REU students would be working at the Electrical and Computer Engineering Department on the Engineering Campus; The Engineering Campus is located 1.7 miles away from the Modesto A. Maidique Campus (MMC) campus.
Engineering Campus At 10555 West Flagler Street
         Travel route from MMC to Engineering Campus 
Transportation
The CATS shuttle travels between Modesto A. Maidique Campus and the Engineering Center. The service operates two shuttles from 6:00am-11:00pm, with departures every 15 minutes at the top of the hour starting at 6:00am from MMC and starting at 6:17am from EC. All shuttles will provide additional stops east of PG5, the Miami–Dade transit hub located at 107th Ave and 17th street, and at the new housing towers in the City of Sweetwater (The one at University City, 109Towers, Identity and 4th ST Commons).
         CATS Shuttle To Engineering Campus